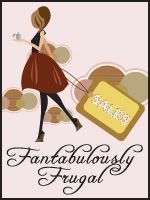 Attention ladies and gents, it is my pleasure to introduce this week's guest, Lisa, the mastermind behind Fantabulously Frugal. We were so excited when she agreed to join our guest blogging family, as this lovely lady is truly the queen of the online deal hunt. Read on for some fun insight on her blog, readers and necessary handbag contents.
Q: Tell us a little about yourself.
A: Well, first off, hello! My name is Lisa and I hang out at my little website that could, Fantabulously Frugal. I've been living in Chicago for the past 6 years or so, and while I work in education, have recently realized that bargain shopping is my true love. (Go figure – shopping is more fun than school!)
Q: Tell us about your blog. What do you hope to accomplish with it?
A: When I started Fantabulously Frugal it was in response to all of the "mom" blogs I was reading. About a year ago I decided I should start saving money on groceries by using coupons, so I began reading a slew of mom blogs that taught me how to do just that. While learning about couponing was fab, I was also spending a lot of time reading about things like diaper coupons and ways to score free baby formula. Totally not my cup of tea considering my lack of children. I started thinking that maybe there were more people like me – gals who enjoy bargain shopping but aren't necessarily moms. Girls who want to have fun shopping without breaking the bank. Thus Fantabulously Frugal was formed.
Ideally I'd like it to be a bargain shopping forum for any and all women. I don't discriminate on FF – there are deals for all types of women, regardless of size, interests, etc. It's a bargain shopping hodgepodge. (And just for good measure I like to throw in lots of freebies and giveaways!)
In short, shopping = Fab. Paying full price = Yuck.
Q: Why do you think it has become so popular?
A: I think I've gained a great group of readers because my original hunch was correct – there are plenty of women out there who adore shopping for themselves, and like that they can feel less guilty doing so when they're buying things at incredible discounts. There are lots of websites out there that will tell you what's on sale everyday. Fantabulously Frugal is different because I personalize every deal. I don't just post free shipping codes or deals that are sub par. If I don't *truly* think it's a good deal, I won't post about it.
Plus, seriously, when it comes right down to it – who doesn't love bargains and free goodies? Even ultra-rich celebs love going to parties or award shows and walking out with swag bags filled with free stuff. Cheap stuff is awesome. Free stuff is fantabulous.
Q: How in the world do you find so many amazing freebies and deals?
A: I have been extremely fortunate that not only has FF been embraced by readers, but also by retailers! Retailers will often send me emails about upcoming sales they're having, which I absolutely love because otherwise I spend hours upon hours on the internet searching for the best deals I can find. And this also means that my readers get some deals you won't see anywhere else on the internet!
But because writing about the same old stores having sales day after day is boring not only to write about, but also to read about, I spend my weekends scouring fashion magazines looking for new retailers to write about. I love discovering and sharing small and totally random shops, boutiques, online sample sale sites, Etsy sellers, etc.
Q: Switching gears (to our fav topic!), what is your personal purse style?
A: Is "the roomier the better" a purse style? Because that's totally what I'm about. I'm a short gal so I can't carry a bag that's HUGE, but I pretty much carry my life with me everyday. On the weekends I'll sometimes switch it up and just carry a clutch or wallet, but generally I like my bags to be large enough to carry anything! (And currently I'm carrying Handbag Heaven's New York Pebbled Shopper. We're in love.)
Q: What's in your purse, always?
A: My computer! I cannot be without my computer and it is always in my bag, hence why I need a fairly large bag. Additionally I always have my sunglasses, wallet, Blackberry, keys, hair band, pen, granola bar, the latest copy of Lucky Magazine, and Sugar Rose Lip Treatment. That's kind of boring, isn't it? There's also a few pieces of gum floating around in there somewhere.
Visit Lisa at Fantabulously Frugal for your daily dose of frugal fashion fun!